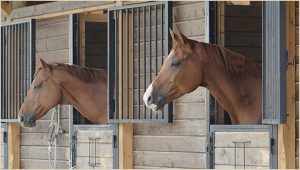 Back in the 1930s & '40s, the Pinehurst area was a go-to place for horseback riding.
Before the residential neighborhoods around Pinehurst were built up, there were numerous riding academies and stables along 15th Ave NE north of the city limits at that time. Just in the area bounded by NE 125th St & NE 145th St, and 15th Ave NE & Lake City Way (then called Victory Way) there were six of them, where hundreds of horses were stabled. One, the Olympic Riding and Driving Academy had a half-mile racetrack and the largest show ring in Washington.
Here's where they were:
14001 17th Ave NE – Clearbrook Riding Academy, ca. 1932
13751 17th Ave NE – Olympic Riding and Driving Club, ca. 1935 and sometimes calledOverland Stables.
NE 145th St and 30th Ave NE – Rightway Riding Academy, (originally known asMountain Trails Stables, opened ca. 1940)
13045 15th Ave. NE – Olson's Training Stables  – opened in the early 1930's
NE 130th St and 20th Ave NE – Willowbrook Stables , ca. 1930
NE 130th St and 21st Ave NE – Woods Stables , ca. 1937
Maybe you have seen the memorial to Will Rogers in the little park behind Lake City Library. It commemorates the last polo game he ever played, at nearby Olympic Riding and Driving Club. This was memorable because it was right before he left on an ill-fated flying adventure.  Rogers was one of the most popular celebrities in the 1920s and '30s. He first gained fame as a cowboy and vaudeville performer. Later, his social commentary was syndicated in many newspapers, and he starred in over 70 films. In 1935 he and a friend had planned to explore the air route to Asia and Europe from the U.S. through Alaska and Siberia in a small plane, but something went awry and they both died.
You can read more about the Pinehurst stables on the old Lake City blog in the Seattle PI here and here.