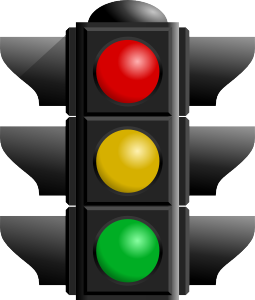 It's the dreaded 5 p.m. commute, and you need to make a left turn onto a busy street. After waiting through a couple of lights, you're at last poised to make your turn.
Do you …
Creep out into the intersection and wait until oncoming traffic clears so you can turn left;
Enter the intersection only when you see you can make the turn without having to stop;
Skip it altogether, because you realize the traffic light doesn't have a green turn arrow?
Got your answer? Give yourself 100% if you answered "B."
Wait … what?
There's a reason 70% of would-be drivers miss that question on the Washington drivers test. Many of us do it wrong!
To meet the letter of the law, you should not enter the intersection unless you know you can complete your turn. Why? You risk blocking the intersection if the light changes and the lane into which you are turning remains clogged (or becomes ​clogged by people taking right turns) and there's no room for your car.
However, NOT going into the intersection can trigger road rage by people behind you. But stand firm and do the right thing!
Adapted from Pemco Insurance's newsletter.