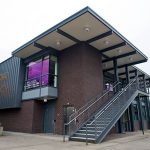 There's a city customer service center in Lake City, upstairs from the library, at 12525 28th Ave NE. It's open 9-5 Monday through Friday, except holidays.
You can make payments in person:
Electric bills (Seattle City Light)
Water, sewer and garbage bills (Seattle Public Utilities)
Pet licenses
Parking tickets and moving violations (credit cards NOT accepted)

Types accepted

Parking citations (handheld or hand written) – If payment is received within 15 days of issue date
Parking citations with delinquent notice – If payment is received on or before the notice due date
Infraction citations – If payment is received within 15 days of issue date
Infraction/Parking citation payments where amount owing can be verified by the court with a phone call.
Court Time Pay Agreement – If payment received on or before due date.
Pre Trial Diversion payments
You can get information about:
City and other job opportunities, including Summer Youth Employment
Community and Neighborhood Organization Contacts
Crime Prevention and Block Watch Materials
Food Banks
Gold Cards (Senior Discounts)
Heating Bill Assistance
Land Use and Zoning Information
Metro Bus Schedules
P-Patch Community Garden Program
Weatherization Services
You can access the internet for free (visits limited to one 30-minute session per day)
And you can get applications for passports (with some limitations).
See the website for more information.