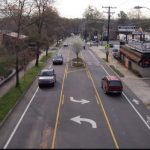 These are direct quotes from Washington State RCW 46.61.290 regarding two way turn lanes:
A two-way left turn lane is near the center of the roadway set aside for use by vehicles making left turns in either direction from or into the roadway.
Upon a roadway where a center lane has been provided by distinctive pavement markings for the use of vehicles turning left from either direction, no vehicles may turn left from any other lane. A vehicle shall not be driven in this center lane for the purpose of overtaking or passing another vehicle proceeding in the same direction.
No vehicle may travel further than three hundred feet within the lane. A signal, either electric or manual, for indicating a left turn movement, shall be made at least one hundred feet before the actual left turn movement is made.