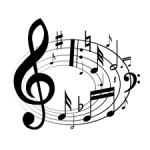 Haller Lake, our near neighbor to the north, has an intimate, casual, classical music venue at Haller Lake United Methodist Church (13055 1st Ave. NE., Seattle).
For about 25 years the church has hosted the Haller Lake Music Series, which offers almost monthly freewill-donation concerts. The performers tend to be local musicians whom you can meet and chat with after the concert as you nibble on free cookies and juice. This April an ensemble made up of Seattle Symphony musicians played a concert there and it was lovely. It's wonderful having a very local music venue with such skilled musicians, and yet it is sparsely attended. I urge you to try it. Here is its website for the schedule:
Saturday, May 19, there will be an evening of chamber music including songs by Schubert, Schumann, and Brahms, Schubert's Fantasie for Violin and Piano, and a selection of Schubert Ländler and Waltzes. The pianist, Tamara Friedman, will be playing on her magnificent 1820s-style Viennese grand fortepiano, which is being brought to the venue especially for this concert. She is joined by violinist Stephen Daniels and internationally acclaimed dramatic soprano Dolores Holt.
Check out this musical gem on the edge of our neighborhood!