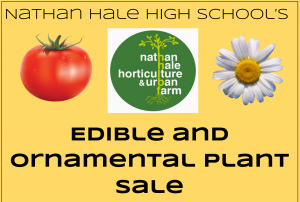 The Nathan Hale 2019 Spring Edible and Ornamental Plant Sale is TEN DAYS AWAY!
We are having a special Early Bird Event on May 10 from 4 -8 pm, and a public sale on May 11 from 9 am to 3 pm.  Tickets for the Early Bird Event are available on the Brown Paper Tickets website.  Get your tickets soon—quantities are limited!
We welcome gardeners from all over the city and beyond to come and enjoy Nathan Hale Urban Farm, our students and our well-priced plants!  Here is our plant inventory list    Visit our website  —  nathanhaleurbanfarm.org — to get directions (on the "contact us" tab) and learn more about Nathan Hale Urban Farm. You can also learn more about our program by watching this recent spot on KIRO TV with reporter Deborah Horne.
We hope you will join us on May 10 and 11 for the sale.  We would really appreciate it if you would forward this message to your plant-loving colleagues, friends and family members.