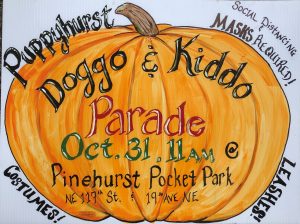 The weather report shows mostly sunny for our 2021 Puppyhurst Doggo and Kiddo Parade! Come on out and join the parade, or bring chairs and watch as the fun passes by. Last year the dog, kid and adult costumes were wonderful to behold.
We are collecting new socks in a bin at the Pocket Pocket park, where the parade begins, if you wish to continue. See the prior blog post for details.
The parade starts at 11 am Sunday, we hope to see you there!