The opening of newly remodeled Pinehurst Playfield Shelter House was celebrated at Saturday's Pinehurstfest. There was a ribbon cutting ceremony, short speeches by dignitaries involved in the project, and delicious carrot cake. In addition, Garth Ferber stood by during Pinehurstfest to talk to people interested in the project. You can see a fact sheet on this blog's shelter house page here. The shelter house is in the park at NE 120th St and 14th Ave NE.
You may notice in the photo below that the doors are sort of funky. We're still awaiting the new doors.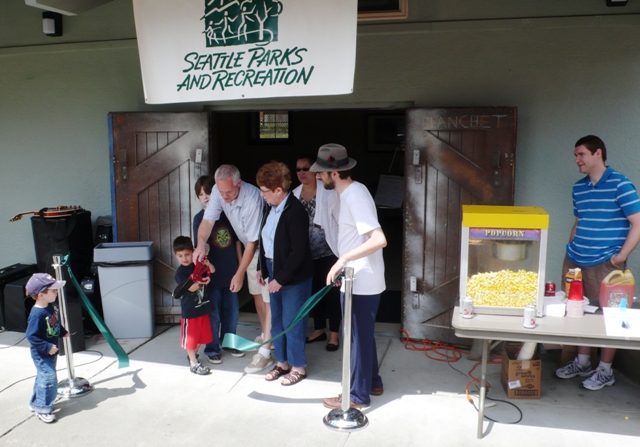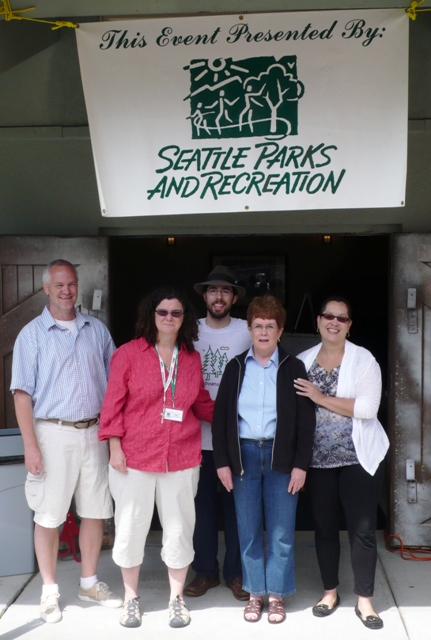 Above, ribbon cutting ceremony.
Left, dignitaries from left to right: Eric Friedli (Parks Deputy Superintendent), Terri Burns (Parks – Meadowbrook CC), Phillip Duggan (Pinehurst Community Council President) , Lorna Mrachek (Pinehurst Community Council), Veronica Sherman-King (Dept of Neighborhoods Director of Community Building and Planning).
Photos courtesy of Garth Ferber