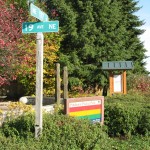 Pinehurst Pocket Park Work Party
9:30-11:30 am, Saturday, April 8, 2023
Please come on out if you want to help with the annual sprucing up of the PPP! A couple hours of work make a big difference in the appearance of our local park. The pocket park is at the corner of 19th Ave NE & NE 117th St.
We'll spend some time weeding and then spread  fresh bark mulch. Bring your favorite weeding tool and a bucket. A pitchfork and wheelbarrow could also come in handy.
All are welcome, see you there!
Garth Ferber