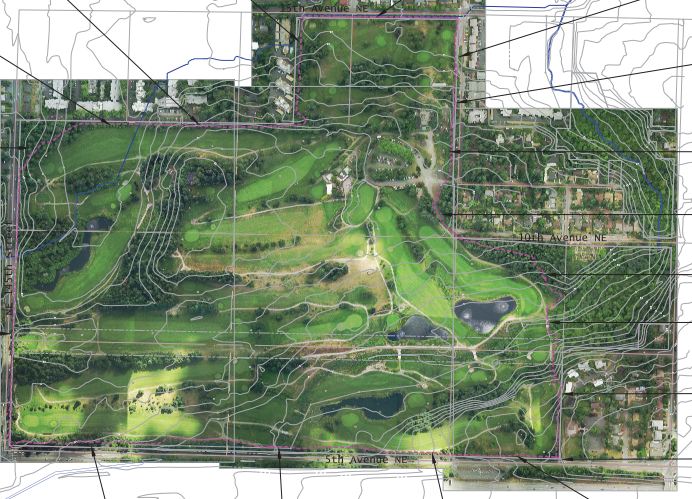 About the Jackson Park Trail
Voted Top 10 Seattle City Park Trails, the Jackson Park Trail is a hidden gem in North Seattle. The trail dodges in-and-out of the woods crossing over Thornton Creek as it skirts along the edge of Jackson Park Golf Course.  Sections of the trail follow busy roadside sidewalks but tuck back into the quiet woods. This stand of second growth forest is home to many creatures: coyotes, bald eagles, hawks, woodpeckers, kingfishers, and the occasional beaver. We ask that you remember to respect the folks playing golf, and the creatures that live in the forest. If you pack it in, pack it out – including pet poo, please! Help keep our trail gorgeous.
Location: 1100 N.E. 135th St., Seattle, WA 98125
Trailheads: The trail has several entry points; the easiest to access are from the main golf-course parking lot and across from the South Jackson Park "Park & Ride" lot on Fifth Avenue Northeast near 133rd Street.
Length: 2.2 miles of trail
Difficulty: Do be aware that there are a few rather steep sections in the northeast and southwest sections, which are not suitable for wheeled vehicles, but will help those on foot to get their hearts pumping!
Volunteer with the Friends of Jackson Park Trail
Now that this incredible trail has been built, the community must be its caretaker. The Friends of Jackson Park Trail hosts monthly work parties to pick up litter, remove invasive vegetation, plant native plants, and rebuild weather and wear-damaged sections. If you would like to be involved in these efforts, please sign up for a work party, visit our Facebook community, or check out our website.
Trail Improvements
We eventually hope to win enough support that we can modify the section on 145th St to get it away from the busy roadway. Because of the nature of the terrain, this is likely to cost as much as the whole project put together has already. The Friends of Jackson Park Trail hope to pursue additional funding for this. We are far more likely to qualify for grants and other funds if we can show that the trail is well-used and well loved. If you have potential funding ideas, please email us.