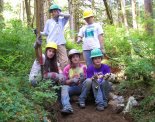 EarthCorps is hosting Green Teen Camp this summer in Seattle at the Seattle Parks and Recreation Rainier Community Center. Participants will need to provide their own transportation to the community center during the camp week, Monday – Friday, 9am-3pm. There is no cost for this camp!
The focus of the camp is for teens to have fun, actively engage in important forest restoration, have a greater appreciation and understanding of urban forests and make new friends who also have an interest in taking care of the environment. Gloves, tools and instruction provided by EarthCorps. Participants will receive 30 service learning hours upon completion.
Registration is handled by the community center by phone only. Pre-registration required. Hurry!
Orientation:
Aug. 17, 5:30-6:30pm Rainier Community Center
Camp:
August 22 – 26, 9am – 3pm
Rainier Community Center
4600 38th Ave S
Seattle, WA 98118
Contact:
Derryn Anderson derryn.andersonseattle.gov
206.386.1919