All the chairs have been given away. Thanks to those who responded and made nice donations!
When the Pinehurst shelter house was remodeled this year, about a dozen metal folding chairs were removed and put in storage at Meadowbrook Community Center. MCC, which manages the use of our shelter house, has stocked it with more stackable chairs. We are looking for homes for these chairs.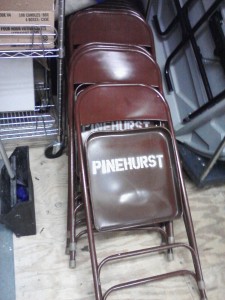 If you would like some of them, and are willing to make a small token donation of your choice to the Pinehurst Community Council for them, please contact me at nancy@pinehurstseattle.org. First come, first served!