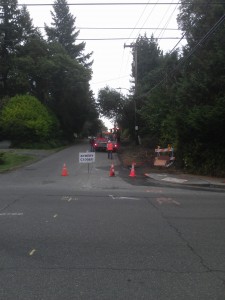 Construction has begun for the new sidewalk on NE 115th St between 5th and 7th Ave NE! In the past month, crews have been preparing the right of way and have added a new storm drain at the corner of 5th and 115th.
Today, excavation and regrading began, and the new curb and sidewalk will be built later this week.
After construction, two street trees will be planted in the planting strip at the 7th Ave NE end of the sidewalk. The 5th Ave NE end of the sidewalk will not have a planting strip, as there are already established trees (madrones).