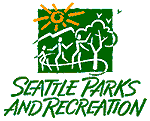 Seattle Parks and Recreation's Helene Madison Pool has been open since 1972 but is quietly hidden away in a residential area.  The pool, at 13401 Meridian Ave N, is located right next to Ingraham High school at NE 134th St and Meridian.
Those who come to the pool love the quiet swims, the friendly staff, and the variety of programming.  It has swimming lessons for all ages as well as lap swims, public swims, and exercise programs.   Unfortunately it has never been easy for people to find due to its location.
Take a look at its website: http://www.seattle.gov/parks/aquatics/madisonpool.htm  for some general information about the pool.  The site has the spring schedule available to download, and lesson registration can be done online.  You can also navigate to an online version of the schedule.  It offers a variety of swims for all ages. Note: not all the hyperlinks work, so just scroll down for more information.