I saw this on Maple Leaf Life and got more details from the Department of Transportion project page:
In preparation for intersection improvements at 5th Avenue NE and Northgate Way Seattle City Light will be closing Fifth Avenue NE at NE Northgate Way from 6 a.m. to noon on both May 5 and May 6.

The weekend closures are necessary so that crews can remove existing utility poles and install two new 90-foot poles using a huge crane.  The crane will take up much of the roadway and is necessary to lift and position the heavy poles. While this utility work takes place all travel lanes on Fifth Avenue NE will be closed as follows:

Saturday, May 5, 6 a.m. to noon, from NE Northgate Way 300 feet north
Sunday, May 6, 6 a.m. to noon, from NE Northgate Way 300 feet south

The road closure includes sidewalk access on the east side of Fifth Avenue NE. During the road closures Eighth Avenue NE is the suggested alternative route for drivers.

Seattle City Light crews will also transfer overhead wires and underground connections to the new and relocated poles, which will require Fifth Avenue NE curbside lane restrictions through Mid May.

Contact Scott Thomsen at (206) 615-0978 or scott.thomsen@seattle.gov for more information.
Specifically the 2012 project will:
Add an additional left-turn lane from westbound NE Northgate Way onto southbound Fifth Ave NE
Build a landscaped median with trees on NE Northgate Way just west of the intersection
Extend the northbound Fifth Avenue NE right turn lane that turns eastbound onto NE Northgate Way
Create decorative crosswalks on all four sides of the intersection
Install a new signal system and improve drainage and water quality
In all areas of widening new sidewalks, planting strips 
and street trees will be placed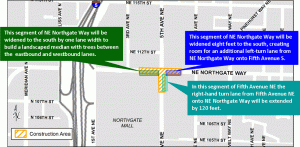 Key benefits include:
Enhanced transit speed and reliability
Safer and more attractive pedestrian environment
Improved mall access from the east, reducing congestion
The NE Northgate Way & 5th Avenue NE Intersection and Pedestrian Improvements Project will help buses and all roadway traffic move more smoothly through and into this busy retail core.  With better traffic flow during each timed signal also comes reduced waiting times for pedestrians, at the enhanced crosswalks to be installed on all four sides of the intersection.  Overall, the results will make walking, biking, and riding transit easier.