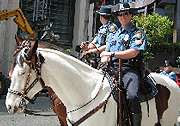 The Seattle Police Department North Precinct picnic is Saturday, August 11th, 1-4pm. It's fun!
There's free food, free music, community booths, door prizes, and tours of the precinct building.
Plus, if they aren't on a call, the bomb squad, mounted patrol unit, K9 unit and SWAT are there to demonstrate what they do.
North Precinct is at 10049 College Way N., across from North Seattle Community College.