Recently a neighbor wrote that her car was broken into twice in the last couple months. She urged us to be vigilant with the longer days and the upcoming holidays. Good advice! Here are some things you can do to help prevent car break ins (thanks to Tacoma Police):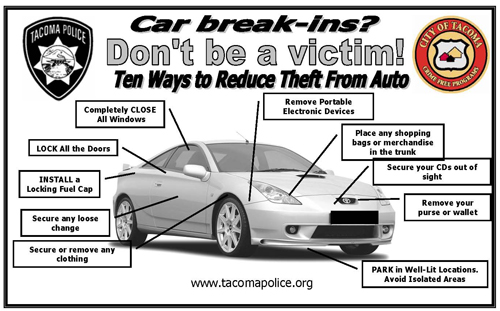 In the event that you have the misfortune of being victim to a car prowl, our SPD Crime Prevention Coordinator, Terrie Johnston, sent these guideline for reporting it to the police:
According to a spokesperson at the SPD  9-1-1 center that Terrie contacted:
Almost all car prowl reports are taken over the phone via 206-625-5011 (the non-emergency number into the 9-1-1 center), unless the car prowl just occurred (within a few minutes) and there is a chance that SPD might be able to apprehend the suspect, in which case call 9-1-1.
If the dollar loss in the car prowl is over $1,500, an officer must take the report over the phone through SPD's 206-625-5011 Telephone Reporting Unit.
If the dollar loss is more than $10,000, an officer will be dispatched to the scene to take the report.
Property damage and minor car prowls can be reported online if they fit the criteria listed on the web page. See the criteria and make reports at:  http://www.seattle.gov/spd/report/default.htm. (Editor's note: it is useful to report even minor crimes so SPD knows the extent of crime in the neighborhood).
If you see anyone suspiciously walking about the street, peering into cars, trying door handles, etc., call 9-1-1 immediately. Be prepared to state where the activity is occurring, and to provide details and/or a description of the perpetrators.  This may not be a crime, but it is suspicious.  Let SPD cruise through the area and see what is occurring.  You don't know what you may prevent by getting a patrol car into the area.