Representatives from the Sound Transit Lynnwood Link Extension project gave a presentation at the Pinehurst Community Council meeting last Thursday as we munched pizza at Amante Pizza.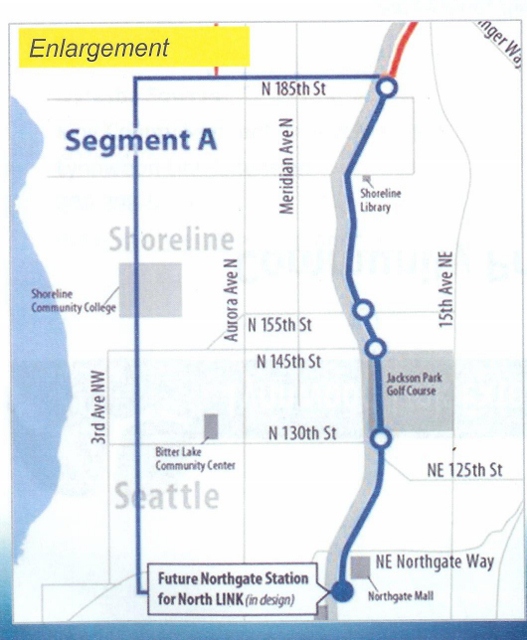 Currently there are six options under consideration for the light rail going through Pinehurst. All of them include the rail being on the east side of the I-5 corridor. The options include variations on whether the rail at certain segments is at grade level or is elevated.
Under consideration is a station at NE 130th St or at NE 145th St.
A station at NE 130th would be either at grade or elevated, and it would use surface parking, including the park and ride plus some new leased space.
A station at NE 145th would be elevated and it would include a new parking garage.
The plan is for Metro buses to feed the station for convenient access. It behooves us to make our voices heard at Metro so it knows we are expecting good bus service and so it can budget accordingly.
All alternatives would include pedestrian and bike improvements in the area.
The rail will be designed so that the neighborhood experiences no more noise than currently. This year engineers took baseline noise readings at 80 locations. Many other considerations are being addressed in the Environmental Impact Statement, such as the Thornton Creek Watershed and wetlands, social impacts, air quality, electromagnetic fields, parkland and open space, and more.
Project completion is scheduled for 2023, a long way out, but it's in our interest to be aware of the process and to be involved. This summer there will be a formal comment process. Comments can be sent any time via the project web site.
For more information on the project, including schedule, see the project web site at  http://projects.soundtransit.org/Projects-Home/Lynnwood-Link-Extension.xml. You can sign up for email updates on that page, on the left, under Recent Updates.