By Cindy Riskin*
Golden deadnettle (Lamiastrum galeobdolon), also called "yellow archangel,"  has popped up in Pinehurst, and it's in beast mode. (See the rapidly spreading patch in the public right-of-way on the south side of NE 120th Street, between 19th Avenue NE and 20th Avenue NE.)
Although weeds are as inevitable in the urban habitat as smog, soil contaminants, and the neighbor's cat leaving Tootsie Rolls in your freshly mulched daffodil bed—even weed-anti-alarmist and plant expert Arthur Lee Jacobson writes that it is "explosively invasive via creeping stems." It quickly carpets acres of shady understory, crowding out native groundcovers, such as Western trillium (Trillium ovatum).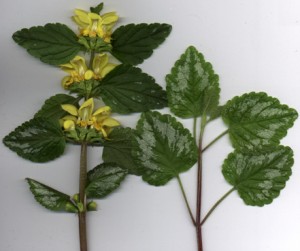 [Scan ©2001, courtesy Arthur Lee Jacobson]
This mint-family groundcover has silver markings on mid-green leaves and produces yellow flowers in late March through June. Its roots are shallow, but it is difficult to control because even small remnants of roots or runners generate new plants. To eradicate small patches:
Dig when the soil is saturated, leaving a wide margin.
Dress with 1 foot of arborist chips or other heavy mulch.
Check back often and dig any  new plants.
Unlike what they say on Super Bowl car ads on TV, do try this at home. Just be sure to put the weed in your city—not your home—compost bin.
If you desperately love this plant for one of its virtues–lighting up shady nooks in your garden–use instead the variety 'Hermann's Pride.' It is not invasive and is much prettier. Another virtue is that it is edible. The aforementioned patch is where I walk my dogs, however, so proceed accordingly.
For more information on golden deadnettle, see my upcoming blog, tentatively named "Not Your Grandma's Garden" (stay tuned for announcement), Arthur Lee Jacobson's erudite article, and the King County weed alert.
Pronunciation
To learn to say "Lamiastrum galeobdolon," practice this approximation: Voice 004. The author takes no responsibility, however, for its accuracy or any hilarity resulting from its use.
Neighborhood Action
As soon as we get a few days of ground-soaking rain, the Pinehurst Weed Brute Squad will assemble, shovels in hand, to dig the patch on NE 120th. To join us or provide mulch, please contact me.
If you spot another golden deadnettle or other regulated noxious weed infestation in King County, please report it to the proper authorities (that is, someone who has a real job doing this).
References
Jacobson, A.L. April 2003. Plant of the Month: April 2003—Yellow Archangel or Golden Dead-Nettle, Lamium Galeobdolon (L.) L. http://www.arthurleej.com/p-o-m-April03.html.
Jacobson, A.L. 2008. Wild plants of greater Seattle, 2nd edition. Seattle, WA: Arthur Lee Jacobson. Print.
King County Noxious Weed Control Program Weed Alert. No date. Yellow Archangel (Lamiastrium galeobdolon). http://your.kingcounty.gov/dnrp/library/water-and-land/weeds/Brochures/Yellow_Archangel_FactSheet.pdf.
Plants For A Future. 1996-2012. Lamium galeobdolon. http://www.pfaf.org/user/plant.aspx?latinname=Lamium+galeobdolon.
*Cynthia Lee Riskin is a Master of Environmental Horticulture, a WSU/King County Master Gardener, and a freelance garden writer who ought to know a thing or two about weeds. After all, she has enough.