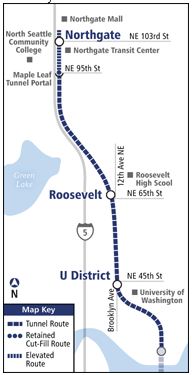 Come learn about the Northgate Station 90 percent design and hear updates on station artwork and Maple Leaf portal construction activities.
 Date: Wednesday, March 12, 2014
Time: 6-8 p.m. (presentation begins at 6:30 p.m.)
Location: Olympic View School Cafeteria
Address: 504 NE 95th Street, Seattle
For more information contact Rhonda Dixon at 206-398-5300 ornorthlink@soundtransit.org, or visit soundtransit.org/northlink. To request accommodations for persons with disabilities, call 1-800-201-4900 / TTY Relay: 711. To request translation services, call 1-800-823-9230 during normal business hours.