There has been a lot of talk about the new school being constructed on the site of the current Pinehurst school. People have had a lot of ideas for improvements that need to be made in the area and this is a good opportunity to share you ideas on how to make our neighborhood a safer place. The two meetings should be identical. There are two of them at different times to give more people a chance to participate. Please share this meeting far and wide.
Daytime Meeting
Evening Meeting
3 to 4:30 PM
Presentation starts at 3:15 PM
6:30 to 8 PM
Presentation starts at 6:45 PM
Tuesday, May 13th, 2014
Wednesday, May 14th, 2014
Pinehurst Playfield Shelterhouse
12029 14th Ave NE
Pinehurst Playfield Shelterhouse
12029 14th Ave NE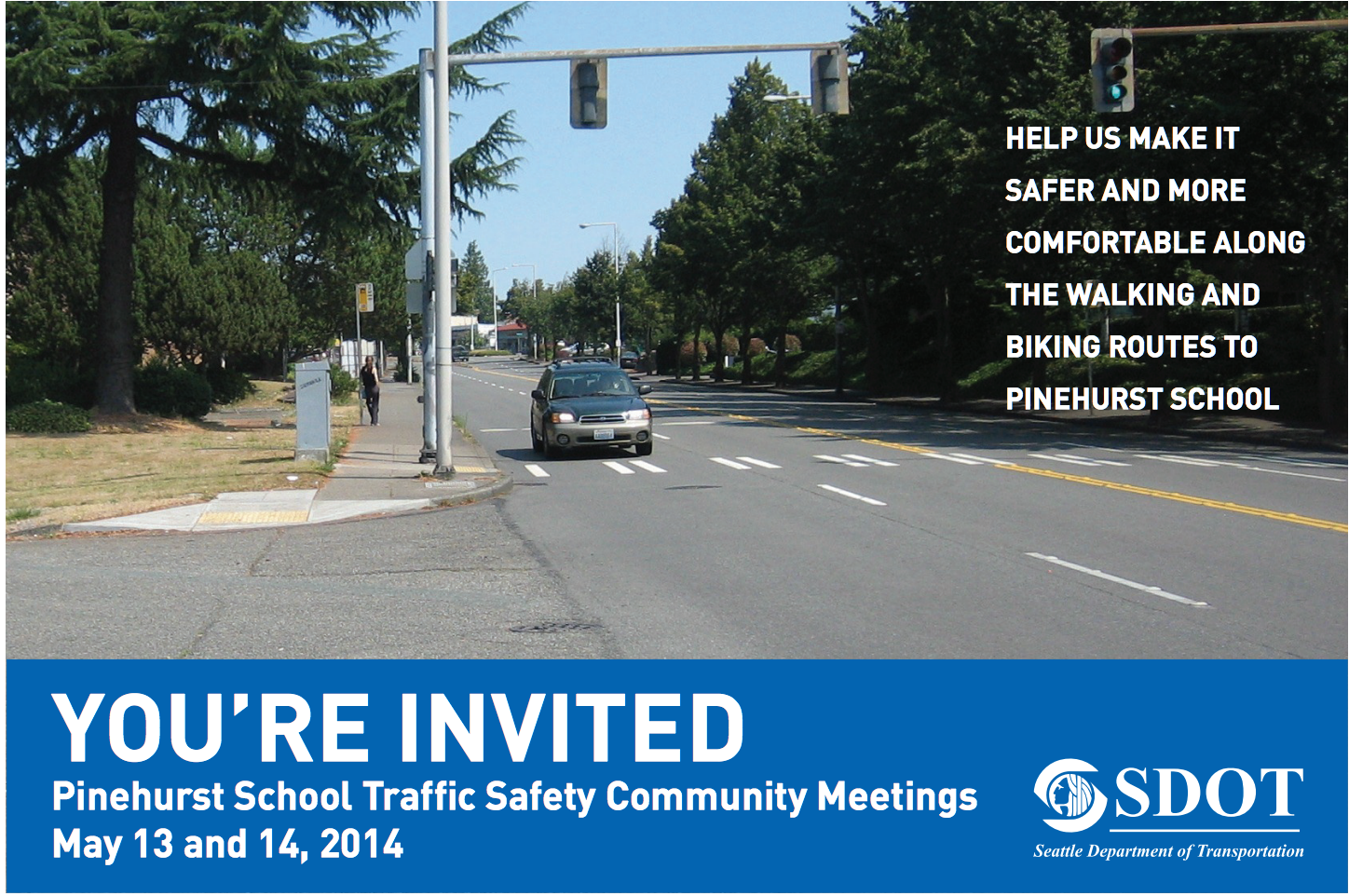 The Seattle Department of Transportation (SDOT) is launching a collaborative process to review traffic safety along the walking and biking routes to Pinehurst School. As safety is our number one priority, and children walking and biking to school are especially vulnerable, we are committed to improving school traffic safety by reducing speeding and collisions and providing safer places for families to walk and bike to school.
SDOT will bring the community together to consider changes to the streets around Pinehurst School in an effort to bring down speeds and make our streets safer for everyone. Together we will determine the specific nature and design elements through the process described below. New safety measures to be considered through this project may include, but not be limited to, the following: signs, traffic calming, road striping, traffic signals, sidewalks, and crosswalks.
Come to the community meeting on May 13 or 14, 2014 to meet the share your ideas about making it safer to travel in your neighborhood.