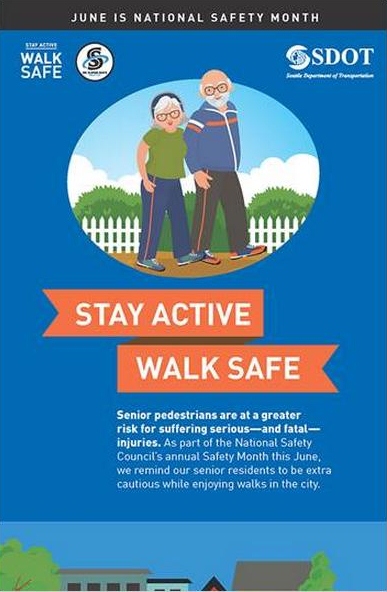 Seattle is among the most walkable large cities in America. But our streets are busy, and we share the road with cars, buses and cyclists.
In Seattle, from 2010 to 2013, people aged 50 or older accounted for 70 percent of pedestrian fatalities (16 out of 23 fatalities).
One fifth of people 65 and over, which often leaves walking as the main way of getting around. Most pedestrian collisions occur in marked crosswalks, so it's important that seniors pay attention when crossing any street.
Safety tips for seniors:
Know your speed – don't start walking across a street when the don't walk sign is flashing.
Scout your route – if you're going to explore, plan your route ahead of time.
Look, smile, wave – make eye contact to make sure motorists see you.
Look left, right, left – look before crossing streets, and be sure motorists turning the opposite way from you see you before you walk in front of them.
Be seen – consider wearing bright and reflective clothing so that drivers can see you.
Repairs needed? – Call 206-684-ROAD so SDOT can get working on it.
Thanks to Dylan Tyne for sending in this information on behalf of SDOT. With summer just around the corner, more people will be out enjoying themselves. SDOT wants older people to be alert and aware of important safety practices when walking. And it want drivers to do their part by stopping for pedestrians and giving them plenty of time and space to cross the street.