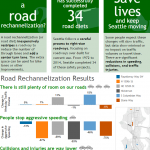 Walking in Seattle blogger Troy Heerwagen poured through data from a half dozen Seattle Department of Transportation (SDOT) evaluation reports to create a graphic depiction of the effect road diets in Seattle have had on traffic and safety.
For NE 125th St, while weekday traffic volume has gone up 11%, aggressive speeding has gone down 69% and injury collisions have reduced by 17%.
Click on the chart to enlarge it, or go to the Seattle Neighborhood Greenways website here.