From a pa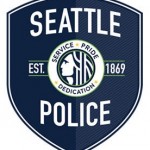 mphlet by SPD and City Attorney's Office:
Where can I buy marijuana in Seattle? A current list of the stores licensed by the Washington State Liquor Control Board is at www.seattle.gov/cityattorney/news/stay-informed.
Should I buy marijuana at a medical dispensary or collective garden? No! You should only patronize I-502 retailers licensed by the state. All other dispensaries and collective gardens are neither licensed nor regulated. They have no quality control or labeling requirements or safety guidelines, so you cannot know with certainty what you are buying or how much THC is in it. Anyone distributing marijuana without an I-502 licence is also committing a felony under both Washington and federal low. Unlicensed medical dispensaries may have an affirmative defense to criminal charges, but all are subject to arrest and criminal prosecution for distributing marijuana outside the I-502 system.
Should I buy marijuana in a park or on the street? No! The person selling it to you is committing felony delivery. State law allows only I-502 licensed stores to sell marijuana. There is no state certification or guarantee that you are getting quality, untainted marijuana if you buy from anyone other than an I-502 licensed store.
Where can I use marijuana? Marijuana can be used any place that is not in view of the general public. Streets, sidewalks, parks, and public places are all in the view of the general public. Marijuana use includes smoking, vaping and ingesting edibles.
Can I use marijuana in a park? No!
Can I smoke the marijuana? If you choose to smoke marijuana, you must comply with the open use laws as well as the smoking laws for the State of Washington. These are two separate infractions and could total well over $200 in fines if combined. Do not smoke marijuana in view of the general public and do not smoke it inside a business or within 25 feet of the entrance to a business. Check with your hotel/motel for any rooms where smoking might be permitted.
Can I take it home with me? Not if you live outside Washington State. Buy it here, enjoy it here.
Can I take it on an airplane? No!
| | |
| --- | --- |
| State-Licensed Stores | Address |
| Cannabis City | 2733 4TH Ave S |
| Uncle Ike's | 2310 E Union St |
| Ocean Greens | 9724 Aurora Ave N |
| Grass | 14343 15th Ave NE #A |
| Mary's N Seattle | 12230 Aurora Ave N #B |
| Ganja Goddess | 3207 1ST Ave S Unit C |
| Herb's House | 716 NW 65th St |
| Seattle Cannabis Co. | 3230 1st Ave S #B |
| A Greener Today Recreational | 10522 Lake City Way NE #C103-104 |
| Hashtag | 3540 Stone Way N |
| Herbn Elements | 11013 Lake City Wy NE |
| Seattle Tonics | 12059 Aurora Avenue N |