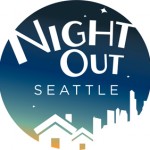 Night Out is a national crime prevention event designed to heighten crime prevention awareness, increase neighborhood support in anti-crime efforts, and unite our communities. This year it is August 4th. In 2014, over 1,400 Night Out events were registered city-wide. In Pinehurst, if you walked through the neighborhood you saw many streets holding potlucks. This is one time when you can close off your street to traffic without getting a special permit; all you need to do is register for Night Out (see below).
It's fun, it's free and it's a great chance to reconnect with neighbors and share information with each other while learning more about crime prevention.  Getting together with neighbors, recommitting to watch out for each other, and reaffirming that you will report suspicious activity to police are ways to show you care about your community.
You don't need to be in an active Block Watch to hold a Night Out event.  However, if you would like to form a block watch, please indicate that on your registration (there is a check box for that). Register your Night Out event at http://www.seattle.gov/police/nightout/.