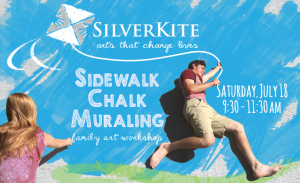 Community members of all ages will contribute to a chalk mural on Saturday, July 18, 9:30 to 11:30 a.m., as Silver Kite Community Arts kicks off its latest series of inter-generational art experiences. In collaboration with artist Nancy Silvesan-Valdes, participants will turn the George: Center for Community parking lot into a work of art. It's at 2212 NE 125th St.
"The joy of accomplishing something together is a memory that can be remembered throughout a person's life, and can be passed down to future generations," said Silvensan-Valdes, of her desire for families and communities to create together.
Sidewalk Chalk Muraling is the first in a series of monthly Family Art Workshops offered by Silver Kite to encourage creativity, innovation and connection for the whole family as they experience something new together. Each workshop is facilitated by a local professional artist and focuses on offering a new art medium to experience. Families can contribute to murals, bring recycled characters to life, learn new games and dances, and make crafts, time capsules and more! Workshops are held from 9:30 to 11:30 a.m. at George: Center for Community on select Saturdays. All ages welcome, children six and under must be accompanied and supervised by an adult.
$5 for youth and seniors (65+)
$10 for adults
More information: www.silverkite.us.
To register: http://silverkitemural.brownpapertickets.com/
Schedule of Family Art Workshops:
July 18: Sidewalk Chalk Muraling
August 1: Make That!
August 15: Let's Play Together
September 19: Moments in Time November 7: Family Folk Dance
December 12: Holiday Card Creation