Lake City Family Housing—Project Update August 3, 2016
Here is an update on affordable housing to be built at 12705 30th Avenue NE, the site of the former Fire Station 39. The sponsor, the Low Income Housing Institute (LIHI), provided this brief recap and summary of progress and schedule.
Proposed to Build
 70 units of workforce rental housing for families/individuals earning up to 60% of Area Median Income
25 studios
15-1 BRs
25 -2 BRs
5-3 BRs
and Roof Top Resident Deck & Garden
 6,800 SF Preschool for 3 to 5 year olds supported by the Seattle Preschool Program, including four classrooms and an outdoor play space, with hours of operation sufficient to support working families, 7:00 am to 6:00 pm, that includes before and after school care.
 4 on-site parking spaces and reserved off-site parking within 800' of the site, possibly at Lake City branch library if surplus spaces are available.
Eligible Incomes
To be eligible to live at Lake City Family Housing, a household could make no higher than the income limits

Architectural Progress
The NE Neighborhood Design Review Board (DRB) met on June 13, 2016 to provide Early Design Guidance to the architects, Runberg Architecture Group. Please see the design studies below. Very constructive suggestions included orienting the building toward 127th and not 30th Avenue NE; maintaining good security along 30th Ave NE with ample building and street lighting; incorporating Lake City Neighborhood Design Standards; referencing aspects of the auto-centric history of the community and creating a beautiful building. LIHI also heard concerns about zoning in the Urban Village not requiring on-site parking for residents, lack of safety along 30th Ave NE, and concentration of children.
Schedule – City Departments Collaborating to Help Get the Project Underway
Master Use Permit Application (Land Use #3024131) submit to City Aug 16, 2016
Application to City of Seattle Office of Housing for Funding-September 13, 2016
Design Review Board Recommendation Meeting – Anticipated Oct/Nov 2016
Building Permit Issuance April 2017
Construction start May 2017
Completion July 2018
Preschool Opening Sep 2018
Preliminary Concepts
Color Option 1-yellow "ribbon," with multi-color accents in grey facades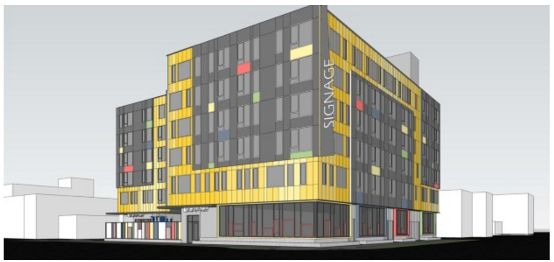 Color Option 2- multi-colored "ribbon," with no color accents in grey facades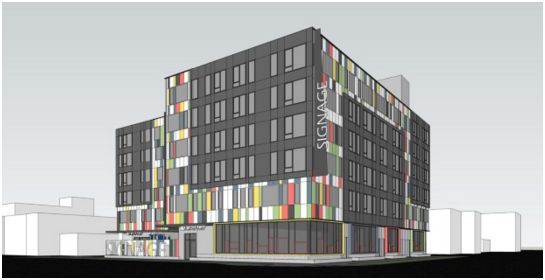 Suggestions/Questions? Contact Robin Amadon, ramadon@lihi.org 206-957-8050