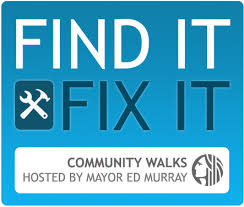 Get involved in solving some of Pinehurst's safety and maintenance issues!
Mayor Ed Murray announced the six neighborhoods where he will host his annual Find It, Fix It Community Walks. These walks bring City officials, business owners, and community members together to address each neighborhood's needs.  During the walks, neighbors, police, and City officials walk together to identify physical elements in the neighborhood that make it feel unsafe or poorly maintained. Examples include overgrown trees, graffiti, street light outages, and litter. Once the elements are identified, the City and community work together to fix the problems.
One of the neighborhoods where Mayor Murray will lead the Find It, Fix It Community Walks this year is Northgate. Since city departments sometimes use different borders for neighborhoods, I called Dept of Neighborhoods to ask for the Northgate boundaries. Sure enough, part of Pinehurst (south of NE 115th St and west of Roosevelt Way), are in its version of Northgate. BUT, the fellow said that they are perfectly willing to expand the boundaries to include all of Pinehurst and/or Victory Heights if there is interest among the community members who join the action team.
Each walk will follow a route determined by community members on Community Walk Action Teams convened by Seattle Department of Neighborhoods.  If you are interested in participating in a Community Walk Action Team to help plan the Northgate walk, contact Lemmis Stephens, Find It, Fix It Program Coordinator, at Lemmis.Stephens@seattle.gov or call (206) 386-1907.
Specific dates and locations will be announced at least two weeks prior to each walk. I am on a contact list to get this info, so I'll post again later. In the meantime, if anyone would like to join the team, by all means call the number above (and let me know). Or if you wish to submit ideas for problem areas in Pinehurst where the Mayor can be directed to on the walk, please let me know at Nancy@PinehurstSeattle.org so I can pass them on to anyone who volunteers. I'm also keeping a log of issues that come up that can be used.