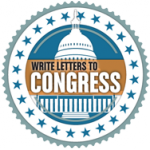 Recently someone in Facebook's Pinehurst/Olympic Heights Buy Nothing group asked for help with how to effectively communicate with our legislators. Another member, a political science adjunct faculty member at North Seattle College and former congressional staffer, offered to help set up a meeting and speak to this issue. It was a well organized meeting with good attendance. The speaker, Jill Lane, was outstanding.
The information presented is a useful guide for how to make your voice heard and your opinion count. A handout from the meeting tells how to write a letter, and gives contact information for all our state and federal legislators. You can read it here.
For minutes from the meeting, look here. These include the relative effectiveness of different communication methods, such as phone calling, letter writing, petition signing, office visiting hours, town hall meeting, fax.
An important thing to remember is that even if you think your legislator has the same opinion on an issue as you, it is still worth letting them know your opinion. It's our civic responsibility to be engaged, including voting and communicating with our legislators once they're in office!