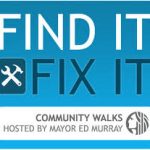 Are you interested  in having your voice heard at Mayor Ed Murray's Find It, Fix It Community walk for the Northgate/ Pinehurst Community? Besides the work Pinehurst Community Council is doing to collect your ideas, you can go directly to the City to weigh in:
City reps Lemmis Stephens and Paige Madden will be tabling Wednesday March 29, and Wednesday April 5 at the Northgate Mall from 4- 7 pm.
They will be handing out Community input surveys for community members to fill out their most serious concerns they may have in the community.  If you would like to visit them they will be located next to the Food Court.
They will also hand out "Get Involved" Flyers to broadcast our first Community Walk Action Team (CWAT) Meeting, which will be at  The Northgate Community Center, Tuesday April 11,2017 from 6:30-7:30 pm.  In order to be a speaker or to help route the walk it is required that you RSVP and attend.  At the meeting we will discussing:
·         Roles for Community Members
·         Topics for each stop
·         Walk & Talks w/ Mayor Murray
·         $3,000 Community grant
·         Find It, Fix It Mobile App
Each meeting is very important to the success of our neighborhood walk. Please invite friends, family, neighbors and anyone who lives in the neighborhood that would like to get involved in the community. They hope to see a big turn out from this neighborhood.