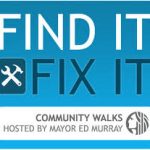 Mayor Murray is doing a Northgate/Pinehurst Find It, Fix It Walk on April 25th. Pinehurst Community Council has been collecting ideas for problem areas to show him via this blog and the Pinehurst Seattle Facebook group.
We invite everyone who made suggestions, and anyone else who is interested, to meet with us for a preliminary planning meeting to discuss the upcoming walk (which is April 25), go over the suggestions, and decide which to propose at the upcoming city-hosted walk planning meeting (April 11).
Our Council's planning meeting is Thursday, April 6, 6:30 pm – 8:00 pm in the back room at Amante Pizza, 12319 Roosevelt Way NE. 
We hope to see you there!