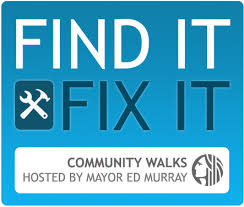 The plan is all set for our Find It, Fix It Community Walk with the mayor, police chief and city council member. This walk provides a unique opportunity for us to identify neighborhood needs and discuss challenges directly with City leaders. All the things we'll spotlight were suggestions submitted by Pinehurst community members. The suggestions were whittled down to fit criteria for a one mile walk. We will, however, show the mayor photos of some of the suggestions that were too far away to be on the route.
Here is the agenda, starting at 5:00 pm Tuesday, April 25, 2017:
Meet at Uncle Mike's BBQ at 11740 15th Ave NE
5:00 pm – 6:00 pm
Sign-in, refreshments, volunteer sign-up opportunities for various City programs, and Orca Lift registration
Pinehurst bumper stickers available for $1 donation to Pinehurst Community Council!
6:00 pm – 6:20 pm
       •    Welcome remarks from Mayor Ed Murray and Council Member Debora Juarez
6:20 pm – 7:25 pm
Walk commences along the following route, (see map) and below
7:25 pm – 7:30 pm
       •    Walk concludes at Uncle Mike's Barbeque
Department representatives and City staff available for follow-up questions