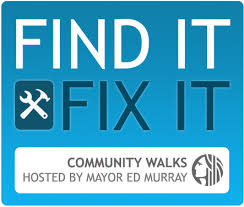 If you have any ideas for how to use the $3000 grant from doing the Find It, Fix It Community Walk, please let us know, or make an application yourself. The application form is here. Applications should be made soon, and definitely anyone interested in submitting one should contact the city within two weeks (see the application for contact info under Frequently Asked Questions).
The idea is to get neighbors together to improve the neighborhood. After a grant is approved, the project organizers do the work and pay for any material costs or services. Then the city pays the money back out of the grant after receipts are submitted.
What can you do with a Community Project Grant?
Host litter pick-up or graffiti clean-up events (we already have an Adopt-A-Street route, but an extra cleanup elsewhere would be fine)
Paint a mural on a public space (how about the shelter house at Pinehurst Playground?)
Create and install new educational or way-finding signage
Plant trees or flowers along a sidewalk or street median
Learn more about past Community Project Grants by visiting www.seattle.gov/finditfixit
Pinehurst Community Council is submitting a proposal for more plantings in the Pinehurst Pocket Park, but if chosen, that will leave lots of money for other proposals.
Businesses in the Northgate/Pinehurst area can also apply. I thought it would be fun if Great Dog did something to beautify the stretch along their store.
If someone from Hazel Wolf K-8 wanted to submit a proposal for more crosswalk flags they are welcome to do that!
What else?