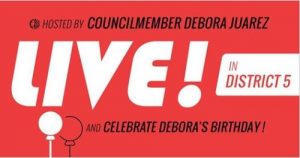 Join District 5 Council Member Debora Juarez for the Second Annual Live in D5 celebration of arts and culture!
Saturday, July 22, 1:00 PM – 4:00 PM
Hubbard Homestead Park, 11203 5th Ave NE
This year's celebration is extra special because it occurs on Councilmember Juarez' birthday! Help Councilmember Juarez' celebrate turning 29 for the 29th time! We've even procured a dunk tank for the auspicious occasion!
This year's event will include:
• Activities for children
• Over 20 local vendors and agency booths
• Free Tacos from Los Chilangos Tacos
• Cash Beer garden hosted by The Growler Guys of NE Seattle
• Live music from local musicians including: The Happy Campers, The Northwest Girlchoir, and a special guest DJ
* Please note this is a City-led event and Debora cannot accept birthday gifts. However, if you are feeling generous, there will be several worthy organizations on-site accepting donations, including: the Aurora Commons, Literacy Source, and North Helpline.*