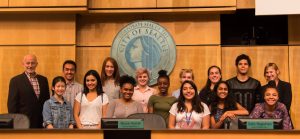 Teens! The City of Seattle is looking for a student to serve on its Seattle Youth Commission (SYC). Youth serving on this commission of 15 get a unique opportunity to work with elected officials, city staff, community leaders, and young people citywide to make positive changes in their communities through policy, organizing, and events.
The commissioners meet the 1st and 3rd Wednesdays of each month at Seattle City Hall from 4:30 – 6:00 p.m. and also serves on special committees based on interest. Commissioners serve a two-year term beginning this fall and ending in June 2019.
Interested applicants must live or go to school in Council District 5 and be between the ages of 13 – 19. To apply, visit www.seattle.gov/syc or complete this application and submit:
Via email: seattleyouthcommission@seattle.gov
Via postal mail: Seattle Department of Neighborhoods, c/o Seattle Youth Commission, PO Box 94649, Seattle WA 98124-4649
In person: Seattle Department of Neighborhoods, located in City Hall, 600 4th Avenue, 4th floor
For questions, call Leslie Daniels at 256-5973.