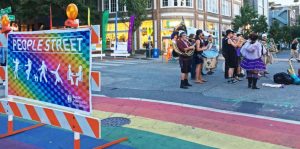 Seattle's People's Street program is coming back in 2018 for the 4th year. The program supports Seattle neighborhoods to create temporary, pedestrian-only streets by closing off certain city blocks to vehicles and opening them up for, well, for whatever you can think of: a dance, a yoga session, a potluck, a kids' playtime….
The goals of the People's Street program are to
Help the community create fun, relaxing, and safe spaces for pedestrians to explore events and socialize, especially during times of high-pedestrian traffic
Collaborate with community groups, businesses, and residents to explore ideas for expanding space and activities for pedestrians in the participating neighborhood
So, what are your ideas? Where would you put one? Are you willing to host a people street?
Applicants need to submit a detailed proposal by March 2, 2018. Go here for more information.