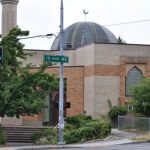 Idris Mosque's Friendship Potluck Dinner is Saturday, May 5th from 5:30 pm to 8:30 pm.
There will be a brief presentation titled "Know Your Rights" by Attorney Jay Stansell.
This event is open to Mosque neighbors, friends and community members, and it is a great opportunity for community building. So join them for an evening filled with great conversations and delicious food.
Idris Mosque is on the corner of Northgate Way and 15th Ave NE.