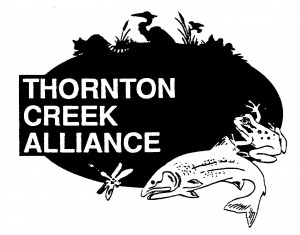 Two Educational Presentations at the next Thornton Creek Alliance meeting:
Thursday, JULY 19TH, 2018
6:30 pm Social Time
7:00 to 9:00 pm General Meeting
At Maple Leaf Lutheran Church, 10005 32nd Ave NE
FREE AND OPEN TO THE PUBLIC
Dredging the Meadowbrook Pond Stormwater Detention Facility
SPU plans to conduct its routine dredging of Meadowbrook Pond from approximately July 9th through September 30th, 2018.
How will this be accomplished?
What methods will be used?
How will wildlife and vegetation impacts be mitigated?
SPU presenters will be:
Jonathan Brown, PE, Sr. Civil Engineer & Project Manager, and Dylan King, Outreach
Northgate Pedestrian Bridge
Find out how SDOT plans to build the long anticipated Northgate Pedestrian Bridge
Where it will begin on the North Seattle College campus
Impacts to wetlands, trees, and wildlife
Safety concerns
SDOT Presenters will be:
Sandra Gurkewitz and Cayla Ravancho Outreach Team
thornton-creek-alliance.org
facebook.com/thornton.creek.alliance
For questions about the meeting contact Dan Keefe at: papadan44@gmail.com