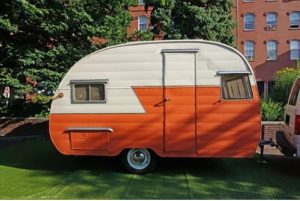 Community members might notice a bright orange 1957 Shasta camper trailer in the Lake City Mini Park November 19-21 3-7 pm. The Mobile Incubator is a mobile office where artists, designers, performers, writers and other cultural entrepreneurs can come to seek business advice for their creative ventures.
The Mobile Incubator is itself a work of art, featuring creative contributions from a variety of artists in its design, including a 1,000+ piece wooden mosaic. Since its inaugural voyage from Seattle, the mobile office has traveled over 25,000 miles across 42 states.
Lucas Spivey, BFA/MBA hybrid, will host open office hours out of The Mobile Incubator. "My goal is to teach business principles to artists, but I encourage everyone to interact on their terms because I feel that people learn best when they're comfortable and excited," said Spivey.
These events are funded by the Arts in Parks program. The Arts in Parks program supports new and established community festivals, art happenings and music concerts that enliven Seattle parks. These arts and culture offerings celebrate diversity, build community connections and energize parks while connecting with under-served communities. Arts in Parks is an initiative of Seattle Parks and Recreation and the Office of Arts and Culture.