Please join us for the Pinehurst Community Council meeting!
The first Community Council meeting of the year will be held at Amante Pizza, 12319 Roosevelt Way NE, on Wednesday, February 20, at 6:30 pm.  We will be in the back room, clearly visible from the main dining room. Below is the agenda, and some information about each agenda item.
Hope to see you there!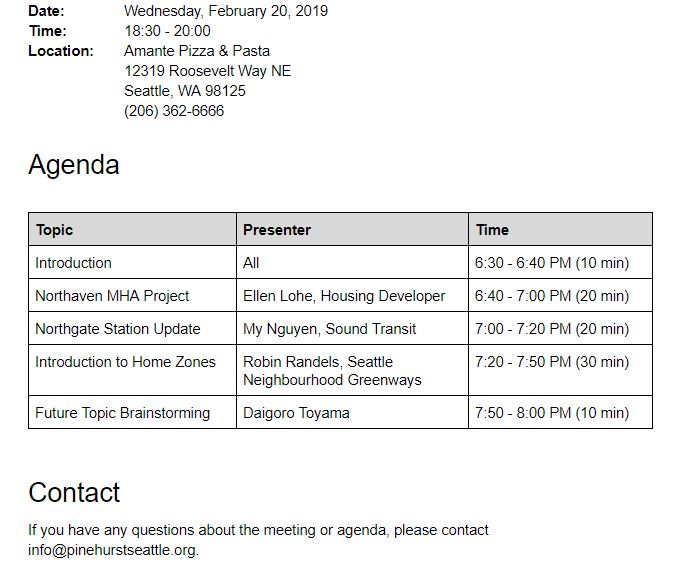 Home Zone
A Home Zone is an area that is protected from lots of fast moving traffic so that streets are safe enough to walk on. Home Zones keep local access for residents, emergency access, and deliveries while discouraging cut-through traffic. Home Zones can use a variety of street improvements to accomplish this, but focus on improvements that have the best "bang for our buck" recognizing Seattle's pedestrian budget is stretched very thin.
Northgate Light Rail Station
We'll get an update on our light rail station that's under construction.
Northaven Senior Living
Northaven is petitioning for zoning changes to its property to enable it to build over 80 units of low-income senior housing and a health clinic. We will learn about how it plans to help our neighborhood become more affordable.
Brainstorming
We want to hear your ideas for future community council meetings. What are your highest interests and greatest concerns? Do you have recommendations for guest speakers? Do you want more activism, like working to get grants for street improvements? Would you like meetings to sometimes be more about socializing, such as a bingo night or a kids talent show?