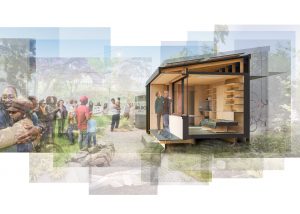 If you don't know who Facing Homelessness is or what the BLOCK Project is, it's one of my favorite projects going on in Seattle right now. They are building homes throughout Seattle and people are offering up their yards to host these homes.
The BLOCK Project invites community into the task of ending homelessness by placing a BLOCK Home in the backyard of one single-family lot on every residentially zoned block within the City of Seattle. Each 125 sq ft home is beautifully designed to be off-grid, self-sufficient, and amenity-rich (featuring a kitchen, bathroom, sleeping area, solar-panels, greywater system, composting toilet, etc.). The BLOCK Project represents an innovative leap forward on the issues of homelessness, cross-class integration, social inclusion, and architectural design.

The BLOCK Project is a housing initiative and a community building project. Through its integrated design, this project will not only offer opportunities for healing and advancement to those formerly living on the fringes of society, but it will also bring connection, relationship, and compassion to the center of our lives and communities. Many social injustices, including homelessness, are perpetuated through emotional and physical separation, which allows us to get stuck on the complexity of the issue. By literally saying, "Yes, in my backyard", we will begin to see the person afflicted by the issue. We believe this will nurture the empathy needed to catalyze a global movement.
And they've got one being build right next door to our neighborhood and they're looking for people to help this weekend. Sign up to volunteer below. Or click the links above to get involved in other ways.
Facing Homelessness invites you to…

Filling ditches at BLOCK Home #6!

Saturday 10 August 2019, 10am

(Olympic Hills, sign up for address)

Hello wonderful people!

BLOCK Home #6 is coming up fast and we need help filling utility ditches this Saturday from 10am to 12:30pm! A vegan lunch will be provided at the end of the shift.

Would love to see you there!

Sign up:
https://timecounts.org/facing-homelessness/events/17931