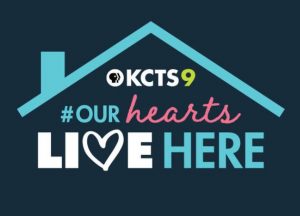 Here's a movement KCTS 9 is starting – to decorate our homes' outward facing spaces to bring joy to our neighbors. Here's the message:
"At KCTS 9, we believe that our COMMUNITY is our greatest strength in times of adversity. The novel coronavirus has significantly changed the ways we interact with our family, friends and neighbors. In an effort to spread some joy during the difficult moment we're all living in, we're launching the OUR HEARTS LIVE HERE initiative. In the coming weeks, we'll seek out and promote ways to safely bring our community together, something that's core to our mission.
This weekend, we challenge you to decorate your outdoor space – front porch, patio, windows, etc. – to bring joy to your neighbors as they walk by. This could be fun or silly set-ups using whatever holiday decorations you have on hand, words of encouragement to those working on the front lines of the pandemic, or whatever inspires you during this time of social distancing.
Show off your work by using #Ourheartslivehere and tagging @KCTS9. Beginning next week, we'll select some of our favorite submissions to be featured in segments that will air on KCTS 9 and shared out with our social media channels.
Finally, please share this with your family, friends and neighbors! The more people who participate the more we show we're all in this together.
Here's how to participate:
1) To be officially considered, visit our website (https://www.kcts9.org/ourheartslivehere) where you'll find a link to the submission form. Include your name, e-mail and photo of your display. Use the hashtag #Ourheartslivehere to share your work with the community.
2) Use materials that you already have at home. Holiday decorations, sidewalk chalk, recycled materials cardboard, etc. The more sustainable the better!
3) Post the KCTS 9 flyer with your display so people passing by know that you are participating and where to get more information. Don't have a printer at home? No problem. Just hand-write a sign that says "We're participating in #Ourheartslivehere with KCTS 9!"
4) All residential spaces are permitted including porches, balconies, windows, etc.
5) Follow all social distancing guidelines and stay at least 6 feet away from anyone who doesn't live in your residence.
Our favorite submissions will be featured in spots aired on KCTS 9. Celebrity and/or staff judges will determine those selected. We may send a producer to your house to take some video of your display. Those selected will be contacted via e-mail by Monday, April 13, 2020."