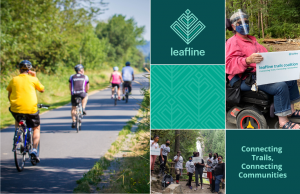 There's a fun new organization starting up, the Leafline Trails Coalition, and their website launched today. Their missions is connecting the trails network across the Central Puget Sound region to improve health, community, quality of life, mobility, and access for all. It's not directly connected to Pinehurst yet but in my mind it could be in the future. And I'm hoping to work to make that happen.
Pinehurst sits between two very popular north-south regional trails. These are the Burke-Gilman Trail to the East on Lake Washington and the Interurban Trail to the West, just past Aurora. Connecting us to these trails could be the start of connecting us to nearly 450 miles of #LeaflineTrails in the Coalition's four-county region – including more than 300 miles in King County – but there has never before been a concerted effort to integrate trails across jurisdictional boundaries and Puget Sound until now.
You can sign up on their website to get involved or learn more. I've been attending the meetings for a bit now since I reached out to a bunch of orgs on an impulse asking if anybody was working to connect these trails. They meet every other month and the next one is scheduled for November.
Introducing the Leafline Trails Coalition: Connecting trails, connecting communities from Leafline Trails Coalition on Vimeo.