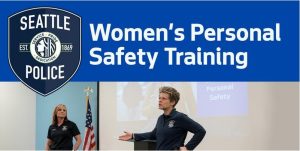 In partnership with a the Seattle Parks Department- the Seattle Police Department is offering multiple virtual Women's Personal Safety Classes.
Learn proactive tips and steps you can take to enhance your personal safety taught by female Seattle police officers and female employees.
Class goals:
-Know the important role your instincts and gut reactions play
-Discover potentially dangerous situations and how to avoid them
-Learn how to make a safety plan
-Decrease the odds of becoming a victim
About the class:
-This is a facilitated discussion and lecture about crime prevention and safety.
-This is not a self-defense class.
-This class is open to women of all ages and most appropriate for young women who are at least 14 year of age or older. For that reason, children should not attend.
Upcoming Classes:
Monday December 21st, 5:30pm- 7pm
Thursday January 21st 2021, 6:30pm- 8pm ***Class geared towards Senior women***
Wednesday February 17th 2021, 1pm- 2:30pm ***Class geared towards Senior women***

Registration not yet open, link will be available in January
Class number: 40903
*You may need to sign-up for an account with the Seattle Parks Department, if you don't already have one*
If you are unable to attend these classes, don't worry, many more (at varying days/times) will be scheduled in the coming weeks/months.