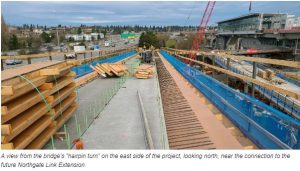 Holiday schedule 
Crews will not be working Thursday, December 24th through Sunday, January 3rd. Work will resume Monday, January 4th.
The following construction activities will be taking place over the next several weeks:
Long-term single-lane closure of I-5 express lane off-ramp (at 1st Ave NE and NE 103rd St)
A long-term single-lane closure of the express lane off-ramp at 1st Ave NE and NE 103rd St will remain in effect for the next several months. One lane on the express lane off-ramp will remain open during the regularly scheduled express lane daytime hours of 8 AM to 11 PM.
East side of I-5 (1st Ave NE between NE 92nd St and NE 107th St) 
Electrical work
Sidewall support work
Preparation and placement of bridge spans
Installation of temporary shoring structures
Concrete work on the upper portions of the bridge for deck placement

Placing forms and rebar
Placing concrete
Allowing concrete curing time
Removing the forms
Upcoming work
Construction will continue through the end of 2020 and in 2021. In spring 2021, 2 bridge spans will be erected over I-5. Each span will be assembled in the median of I-5, moved into place using self-propelled transporters, and lifted by cranes. In the new year there will be information about nighttime and weekend work related to this work.
What to expect during construction
Some noise and construction vehicle activity, including cranes
Some nighttime and weekend work
Detours for people walking and biking
Lane reductions on Northgate express lane on- and off-ramp
2 freeway closures and detours (on weekends and at night only)
Construction staging and parking impacts near the construction sites, including at the north side of North Seattle College along N 100th St and on NE 100th St at 1st Ave NE
Closure of the North Seattle Park & Ride on 1st Ave NE
Questions during construction? Contact:
Darrell Bulmer 
NorthgateBridge@seattle.gov
(206) 905-3620
www.seattle.gov/transportation/NorthgatePedBridge.htm