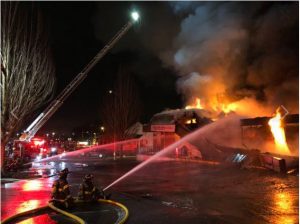 Seattle Police and Seattle Fire responded in the evening of Dec. 28 to a possible burglary that turned into a large fire that destroyed several businesses at NE 127th St across from the Lake City post office.
Investigators determined that it was arson. Seattle Fire estimates the loss is about $2.7 million. Seattle Police Arson and Bomb Squad will follow up to investigate, and the suspects are still outstanding. Anyone with information should call Seattle Police.
The Office of Economic Development and the Office of Emergency Management are working with business owners to pursue local, state, and national support and assist businesses filing insurance claims. Our District 5 Councilmember Debora Juarez's office is coordinating with the Department of Constructions and Inspections to provide architectural drawings to investigators so they can safely examine the property.
Below is a consolidated list of the GoFundMe accounts for the businesses and their employees.
Here is a consolidated list of the GoFundMe accounts to donate money to the small businesses ruined in the strip mall arson fire across from the Lake City Post Office. We'll pin this to the top of the group feed as an announcement.
Information about the fire is here:
Gifted Cutz and Gifted Nailz GoFundMe for Will Barker's Black-owned business:
Ninety Nine CentsStore GoFundMe by Pinehurst Seattle member Marti Hott for owner Mary and her employees:
Aloha Ramen GoFundMe by owner Hanna Choi for her employees:
Papa Murphey's GoFundMe by owner Melissa Von Ruden for her employees (and a small portion for rebuilding):
Small Business GoFundMe by Pinehurst Seattle member Jenn Eaglespeaker
Teriyaki Time GoFundMe by Jane Badamaa for rebuilding and employees:
Build Lake City Together and Children's Home Society of Washington: