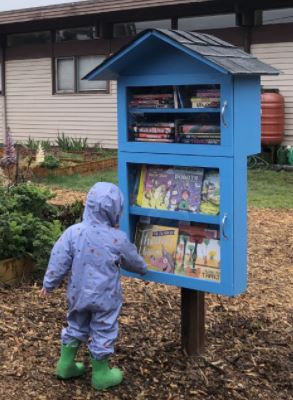 Award-winning local children's literacy organization Page Ahead announces "Book Oasis"—a new campaign to build, stock, and maintain Little Free Libraries for kids living in book deserts in the Seattle area. Each Oasis may be located in front of a private home or business—but the books inside belong to everyone.
Each Book Oasis has a distinctive blue roof and shelves specially created to hold wider picture books and other titles on multiple shelves and levels securely protected from the elements. The lower shelves are designed to be easily within reach by small children.
Currently there are several near Pinehurst:
13047 Greenwood Ave N, Seattle 98133 (Broadview) Location: Luther Memorial Lutheran Church
2828 NE 127th St, Seattle 98125 (Lake City) Location: ReWA Early Learning Center
10510 Stone Ave N, Seattle 98133 (Northgate/99N) Location: Epic Life Church
13516 20th Ave NE, Seattle 98125 (Olympic Hills) Location: Private homeowner property
Once each Book Oasis Little Free Library is created, children's books are added and regularly restocked to each location on an ongoing basis by Page Ahead.
To bring Book Oasis to as many local neighborhoods as possible, Page Ahead is seeking hosts and sponsors. If you'd like to host a Book Oasis outside your home or place of business, or support the effort with a sponsorship or in-kind donation, please contact Project Manager Kim Ferse at kferse@pageahead.org to explore these opportunities. Keep in mind the intention is to put them where kids don't have a lot of access to books.