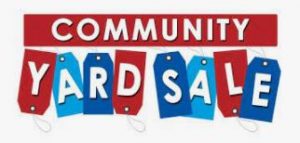 If you plan to have a yard sale and want to be on the map showing the yard sales occurring Saturday, June 12, 9 am – 1 pm in Pinehurst and Victory Heights (29 of them so far!), please sign up before end-of-day Thursday, June 10.
Use this website to sign up: https://signup.com/go/GhEAUuk
We will publish the map (minus email addresses) in Facebook groups Pinehurst Seattle, and Victory Heights, Seattle, WA at 8:45 AM the day of the event so no one can show up early. And for shoppers not on Facebook, we'll post the map on the kiosks at Pinehurst Pocket Park (19th Ave NE & NE 117th St) and Victory Heights Playground (19th Ave NE & NE 106th St).
In addition, we will email each seller a flyer to print out, with the URL and QR code to the online map so pedestrians to happen upon a sale, unaware that it's a community event, can find other locations.