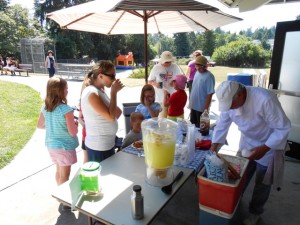 Pinehurst Community Council is sad to report that we are canceling the 2021 Pinehurstfest due to the pandemic. Normally it is held on the 3rd Saturday of July.
This
year we were planning to include a grand opening celebration of the Pinehurst Emergency Hub, whose equipment box is located at Pinehurst Playground.
But Parks and Rec could not tell us whether we could use the park or not due to covid restrictions at the state and city levels. We felt we couldn't plan the event, rehearse the musicians, order cake, recruit community tables, etc. with such uncertainty over whether we'd have to cancel or not.
But we still plan to have an Emergency Hub open house, along with an Urban Survival Skills Fair, this summer or fall when it is less iffy that we can reserve the park or close a street for it.
Stay tuned! We will also ask for volunteers to help explain the urban skills at table stations, such as for first aid, emergency toilet, pets, water, emergency hacks, etc. (we will train).