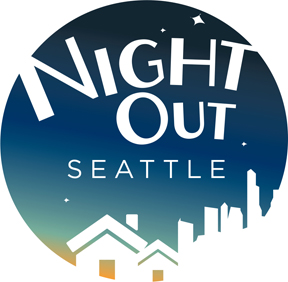 Seattle is celebrating a modified Night Out this year!
Night Out is a national event promoted in Seattle by Seattle Police Department Crime Prevention. It is designed to heighten crime prevention awareness, increase neighborhood support in anti-crime efforts, and unite our communities.  Night Out is traditionally held the first Tuesday night in August.
If you are interested in participating, please register here.
Please follow local, state, and federal guidelines for safe gatherings; review the following:
-King County Covid-19 Data (https://www.kingcounty.gov/depts/health/covid-19/data.aspx)
-Department of Health Coronavirus Information (https://www.doh.wa.gov/emergencies/coronavirus)
-Washington State Coronavirus Response Guidelines (https://coronavirus.wa.gov/)
-Center for Disease Control and Prevention Facts about Covid-19 (https://www.cdc.gov/coronavirus/2019-ncov/index.html)
Contact our precinct's Crime Prevention Coordinator if you are interested in swag, crime prevention handouts, or other materials for distribution at Night Out. (SPD's Crime Prevention Coordinator team can be found here – https://www.seattle.gov/police/crime-prevention/crime-prevention-coordinators)
Keep in mind, due to staffing and call loads, SPD participation in Night Out may be limited.